Welcome
Welcome to the Dianna Agron Wiki Founded in 2012 by LoveMeForMe but then QuinnGlee Here to you will find anything you want to know about Dianna Agron. This Wiki is Still Being Working On We Love Your Help We currently have 28 articles running and This is not Dianna Agron Only a wiki that is free-website by fans
Welcome
Dianna Elise Agron
(born April 30, 1986) is an American actress, singer, and dancer best known for her portrayal of 
Quinn Fabray
on the television series
Glee and for Sarah Hart in
I Am Number Four
.
Dianna Agron was born in Savannah, Georgia, and raised in San Antonio, Texas and San Francisco, California. She is the daughter of Mary Agron and Ronald S. Agron, Agron has appeared on television shows such as Shark, Close to Home, CSI: NY, Numb3rs,and had a recurring role on Veronica Mars. She then appeared as Harper on a 13-episode series of short films called It's a Mall World, directed by Milo Ventimiglia, and airing on MTV, and then on the second season of Heroes
(
Read More...
)
Welcome
This Wiki Still Need More Work so Help Out. To write a new article, just enter the title in the box below.
Welcome
Which Dianna Agron Song From Glee is your favorite?
Welcome
 Dianna Agron Wiki (administrated by QuinnGlee)
Chord Overstreet Wiki (founder by QuinnGlee)
Welcome
Welcome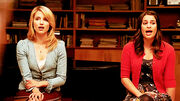 I Feel Pretty/Unpretty
from West Side Story and TLC is featured in Born This Way, the eighteenth episode of Season Two. It is sung by Rachel and Quinn Fabray as they are taking pictures for the rhinoplasty to make photoshops of what Rachel would look like with Quinn's nose. It is used by Rachel to express her lack of confidence in the way she looks, especially when compared to Quinn. It is used by Quinn to express her jealousy toward Rachel, because of the deep feelings Finn still has for her, and the fact that she is beautiful naturally. 
Welcome