It's a Man's Man's Man's World
[[image: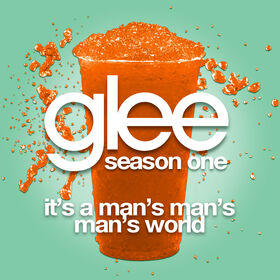 |center|270px]]
It's a Man's Man's Man's World is featured in the episode Funk. The song was originally sung by James Brown from his album of the same name. It is sung by Quinn Fabray.
Quinn sings to show her fellow Glee Club members that just because she is pregnant, doesn't mean she can't be funky. During the song, a number of other pregnant teenage girls dance and perform backup vocals, all part of a club for teenage mothers called the "Unwed Mothership Connection." Quinn and Puck share an intense look during it. At the end of the song, all of the New Directions go to hug her, with the exception of Mercedes, who is upset by the performance. Artie also is unhappy with the performance due to the fact that he believes it is sexist, but he still hugs Quinn at the end.
Quinn:
This is a man's world, this is a man's world
But it wouldn't be nothing, nothing
Without a woman or a girl

You see
Man made the cars to take us over the road
Man made the train to carry the heavy load
Man made electric light to take us out the dark
Man made the boat for the water, like Noah made the ark

This is a man's, man's, man's world
But it wouldn't be nothing, nothing
Without a woman or a girl (without a woman or a girl)

Quinn with Girls:
Man thinks about the little baby girls and the baby boys
Man make them happy, cause man made them toys

Quinn:
And after man make everything, everything he can

Do you know that man makes money? (he makes money)
To buy from other man (to buy from other man)

Quinn with Girls:
This is a man's world

Quinn:
But it would be nothing

Quinn with Girls:
Nothing

Quinn:
Not a one little thing (nothing, nothing)
Without a woman or a girl
He's lost in the wilderness
He's lost in betterness
He's lost, lost somewhere now, in loneliness